Welcome to The Adventures?
What can you expect from something with such insinuations? Anyway, you can expect plenty of boy love... Well, it's not boy love. I mean, how could you ever see Bruce Wayne as anything but a MAHN!? D: Things you ought to expect: 1) Gay 2) Corny love 3) Lots of Batman jokes 4) Alfred, of course 5) Tang (you'll soon understand) 6) Lawls...lots and lots of lawls... 7) More Tang 8) Bruce x Tim action Things you oughtn't to expect: 1) Consistent art 2) Bruce x Dick action (hold your lawls for later) 3) Sex - sorry, but I'm not willing to draw it, kthnx 4) Shortages of Tang I update sporadically. Depending on my interest, I can put up three or four pages a day. Or I can be absent for a month at a time. Bear with me, folks. I love this comic, but I can't use it professionally, so it's hard to dedicate time to it. ;_;
Something tells me that most Batman fans wouldn't be willing to read a comic about how he's gay, but... I'll ask anyway. Do you guys follow the actual comic regularly? It's gotten really interesting lately, and it's currently a total page-turner. I'm biting my lip in anticipation of the next one.

Of course, Bruce is obnoxiously heterosexual (it causes him problems, so it's all good), and Tim is pretty much an absentee character. But Alfred is there! xD Anyway, just thought I would share that with you guys.

Bruce told her that he was Batman. -rolls eyes- Silly Brucie. He should know better by now.

Anyway, go forth and frolic, my lovelies!
posted by SamOnceRoyal @ June 29th, 2008, 3:43 pm 3 comments
If you get the chance to watch Batman: The Animated Series, I suggest you do.

It's filled with such beautiful moments as these (they're from the same episode, just to show you how much love is packed inside):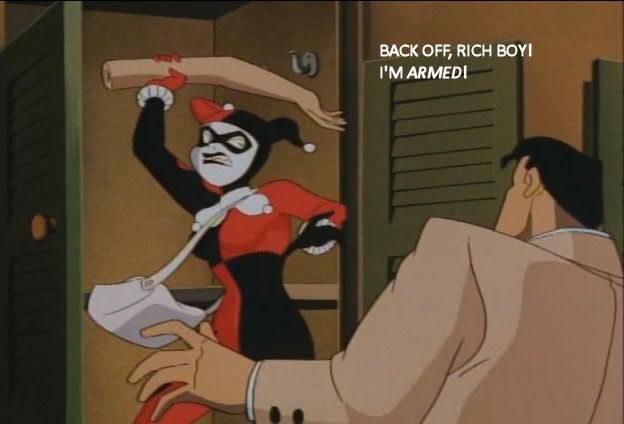 :3 Anyway, just thought I'd share.
posted by SamOnceRoyal @ May 11th, 2008, 8:24 pm 0 comments
Well, I'm considering re-doing the first three chapters of Batman - or at least the first chapter. It's not that the actual art bothers me but the layout, and it always has. It's too spread out, and it's too vague. It's like the whole thing is a dream. Anyway, I would kind of like to make Bruce a bit better at the almighty argument, and I would like to draw them accurate to age. I still wasn't sure how I wanted to draw Tim at the time, and he's closer to Dick in appearance than he is Tim...so I'll give him the hair he currently has and make those eyebrows a bit pointier. Bruce is too young too. Then it'll look like a whole different sort of sexual harassment.

Anyway, tell me what you think.
posted by SamOnceRoyal @ May 6th, 2008, 7:00 pm 1 comments
First of all, I would like to say, "Make more comments." They are like booze - liquid encouragement. D: I need them!

Now, onto the greater matter: Someone mentioned that Robin's name was Dick Grayson. :B This has led me to believe that some people who read this don't really know much about Batman or Robin (just the basic knowledge accumulated from casual viewing). So, since I'm a nerd in the umpteenth degree, I'll explain.

The first Robin (who is most often associated with Batman) was Dick Grayson (the one that you see tromping around being mean to Tim in this comic). He is currently Nightwing.
The second Robin was Jason Todd. He died while Robin, and I'm afraid I don't know too terribly much more about him.
The third Robin is Tim Drake, and he is the Robin of this comic. Why? Because I know more about him, because I like him the most (he's so...pleasant), and because I read the Batman comic. Do you read it? God, they're so together~ x3
Anyway, there is also the female Robin, Stephanie, who took Tim's place for awhile. Yeah, she was kind of lame. Batman fired her. She started a gang war. She died. -shrug-

I'd also like to say that it makes me sad that you guys are saying stuff like, "I like Batman because of this comic." Batman is a wonderful thing. He really is. I've loved him since I first watched the animated series in elementary school, and I really think that you should re-analyze your opinion on him based on the real thing and not this horrible homosexual little ditty I've done. Anyway, that's all. :D Have a great read! I love you guys!
posted by SamOnceRoyal @ May 5th, 2008, 8:01 pm 0 comments
Oh, you guys are so good to me. I'm glad you appreciate the constant updates, because I'm easily discouraged. You guys have made that pretty hard to be, though, what with all the kind comments. I'm glad that the absolute lack of background (I'm lazy, you know) doesn't bother you, and I'm thrilled you like the style. I usually draw girls, so the whole all-guy thing was really a challenge for me. Most of all, though, I'm honored to know that you enjoy the story in itself. Sure, I can never use this actual comic in my portfolio, but I can take the skills I learn from making it with me for the rest of my life. I'm learning as you guys are reading, and it's really great! :D

Anyway, keep up with the comments! They tickle me pink, I swear!

I hope I can continue to bring some smiles and fluttering hearts. ;)

-Sam
posted by SamOnceRoyal @ April 17th, 2008, 10:24 pm 1 comments
By the way, you can contact be better at http://www.poteau-de-batte.deviantart.com, which is the account I created purely for Batman-based love stories. Wah~ Anyway, yeah. Go there. Comment. Favorite. Be forced to drink Tang.

I love how popular the whole Tang thing is with you guys.

Batman (Bruce Wayne) and Robin (Tim Drake) are copyrighted to DC Comics, yo.
posted by SamOnceRoyal @ April 13th, 2008, 6:37 pm 0 comments
This is just a fun sort of thing that was born from a long-lived passion of mine and a new-born inside joke with my friend.

Batman (Bruce Wayne) and Robin (Tim Drake) © DC Comics.
posted by SamOnceRoyal @ April 12th, 2008, 12:59 am 0 comments
Hosted by SmackJeeves · Design by Enkida